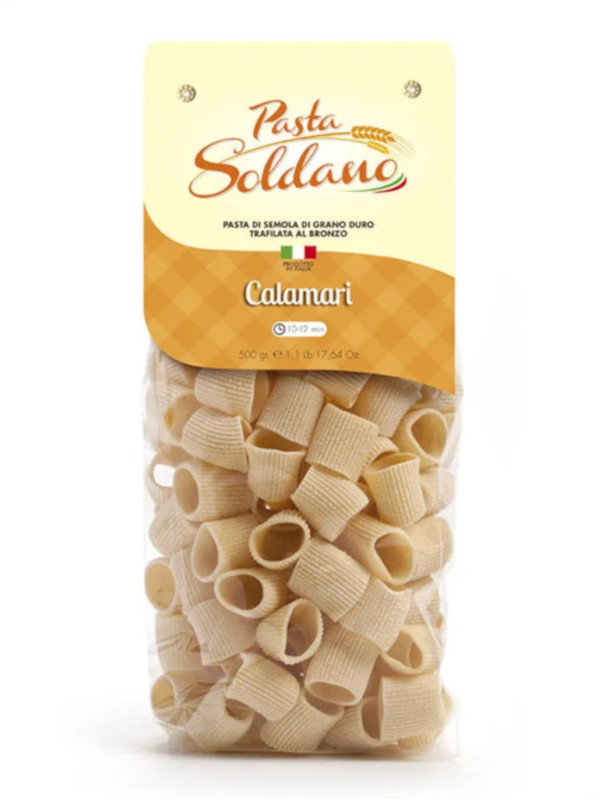 Pasta Soldano Calamari - 500g
Calamari
Similar to rigatoni, but with a more squat format, they are equally suitable for holding any type of condiment thanks to its external grooving and cylindrical shape.
This particular pasta goes particularly well with condiments prepared with fresh and genuine products. Excellent to serve with legumes, or to create fresh pasta salads or even first courses just sautéed in a pan.
Handcrafted product dried at low temperatures.
Bronze drawing.
Available in 500g packs.
INGREDIENTS
Durum wheat semolina | Water
Contains Gluten - May contain Soy and Mustard
PASTA PRODUCED WITH 100% ITALIAN WHEAT.
Origin of wheat: Italy | Country of milling: Italy
———————————————–
Nutritional values
Energy value: 1511 KJ - 356 kcal (values per 100 g).
Fat: 1.5 g
of which saturated fats: 0.3 g
Carbohydrates: 71.7g
of which sugars: 3g
Protein: 11.8g
Salt: 0.002g
Tips for perfect cooking
Use 6 liters of water for 500g.
Add salt and when the water boils, add the pasta.
Stir occasionally.
When cooked, drain and season to taste.
Cooking time: 10-12 min.
Imported From Italy