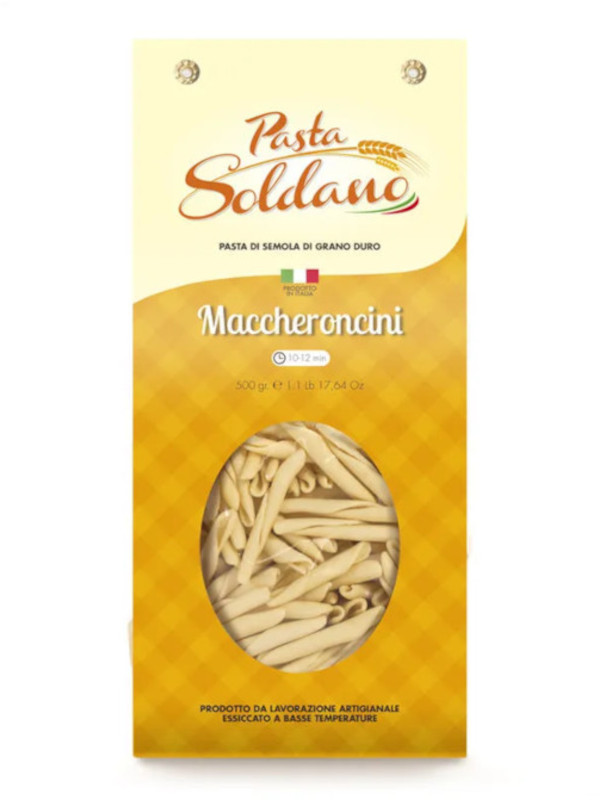 Pasta Soldano Maccheroncini - 500g
Maccheroncini
Also known as Maccheroni al ferretto, they are a typical pasta of the Calabrian tradition that has spread to many southern regions.
This particular macaroni format is traditionally paired with very rich sauces based on goat, beef or pork meat.
Available in 500g packs.
INGREDIENTS
Durum wheat semolina | water
Handcrafted product dried at low temperatures.
Contains Gluten - May contain Soy and Mustard
PASTA PRODUCED WITH 100% ITALIAN WHEAT.
Origin of wheat: Italy | Country of milling: Italy
———————————————–
Nutritional values
Energy value: 1511 KJ - 356 kcal (values per 100 g).
Fat: 1.5 g
of which saturated fats: 0.3 g
Carbohydrates: 71.7g
of which sugars: 3g
Protein: 11.8g
Salt: 0.002g
Tips for perfect cooking
Use 6 liters of water for 500g.
Add salt and when the water boils, add the pasta.
Stir occasionally.
When cooked, drain and season to taste.
Cooking time: 10-12 min.
Imported From Italy