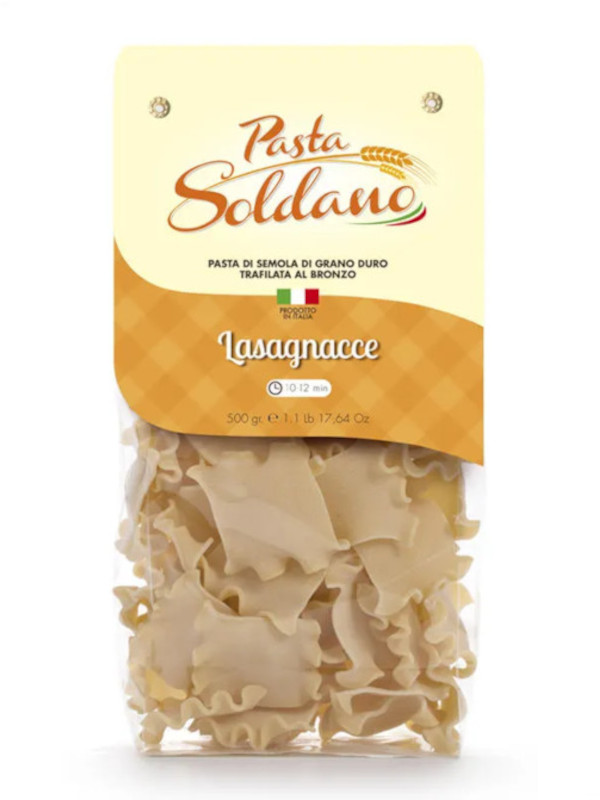 Pasta Soldano Lasagnacce - 500g
Lasagnacce
Lasagnacce have a really distinctive look, a sort of cut ribbon curled on both sides. Once cooked, their irregular texture is particularly evident from the contrast that is created between the smooth and curled part.
It is a rather versatile format, it goes well with delicate fish sauces, but also excellent with legumes, in particular with chickpeas. It also lends itself well to creating vegetable-based baked pies.
Handcrafted product dried at low temperatures. Bronze drawing.
Available in 500g packs.
INGREDIENTS
Durum wheat semolina | water
Contains Gluten - May contain Soy and Mustard
PASTA PRODUCED WITH 100% ITALIAN WHEAT.
Origin of wheat: Italy | Country of milling: Italy
———————————————–
Nutritional values
Energy value: 1511 KJ - 356 kcal (values per 100 g).
Fat: 1.5 g
of which saturated fats: 0.3 g
Carbohydrates: 71.7g
of which sugars: 3g
Protein: 11.8g
Salt: 0.002g
Tips for perfect cooking
Use 6 liters of water for 500g.
Add salt and when the water boils, add the pasta.
Stir occasionally.
When cooked, drain and season to taste.
Cooking time: 10-12 min.
Imported From Italy