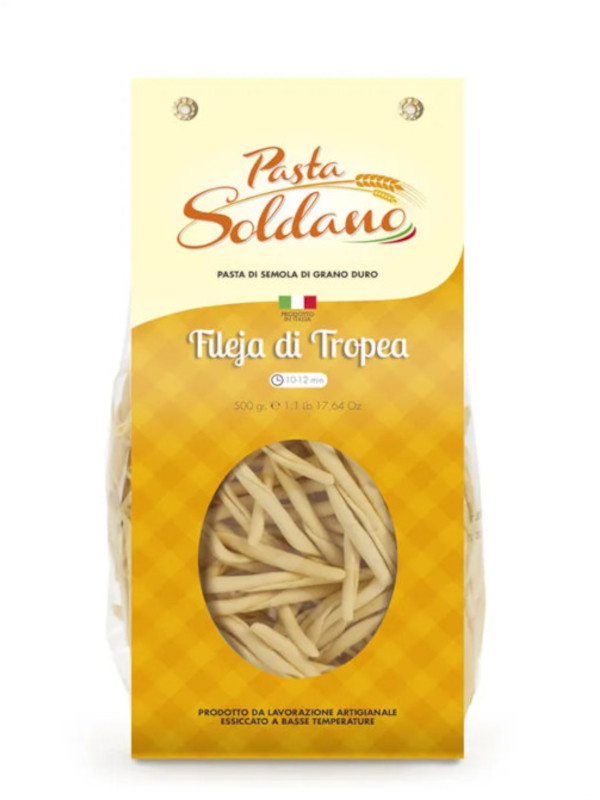 Pasta Soldano Fileja di Tropea - 500g
Fileja of Tropea
Fileja is a typical pasta from the Calabrian province of Vibo Valentia. Its elongated and curved shape is given by a particular manufacturing process.
It goes well with fresh tomato sauce and possibly with the typical grated Pecorino del Monte Poro cheese and a good Calabrian hot pepper.
Handcrafted product dried at low temperatures.
Available in 500g packs.
Ingredients
Durum wheat semolina | Water

An excellent choice can also be to flavor it with the famous Spilinga N'duja.
Contains Gluten - May contain Soy and Mustard
PASTA PRODUCED WITH 100% ITALIAN WHEAT.
Origin of wheat: Italy | Country of milling: Italy
———————————————–
Nutritional values
Energy value: 1511 KJ - 356 kcal (values per 100 g).
Fat: 1.5 g
of which saturated fats: 0.3 g
Carbohydrates: 71.7g
of which sugars: 3g
Protein: 11.8g
Salt: 0.002g
Tips for perfect cooking
Use 6 liters of water for 500g.
Add salt and when the water boils, add the pasta.
Stir occasionally.
When cooked, drain and season to taste.
Cooking time: 10-12 min.
Imported From Italy