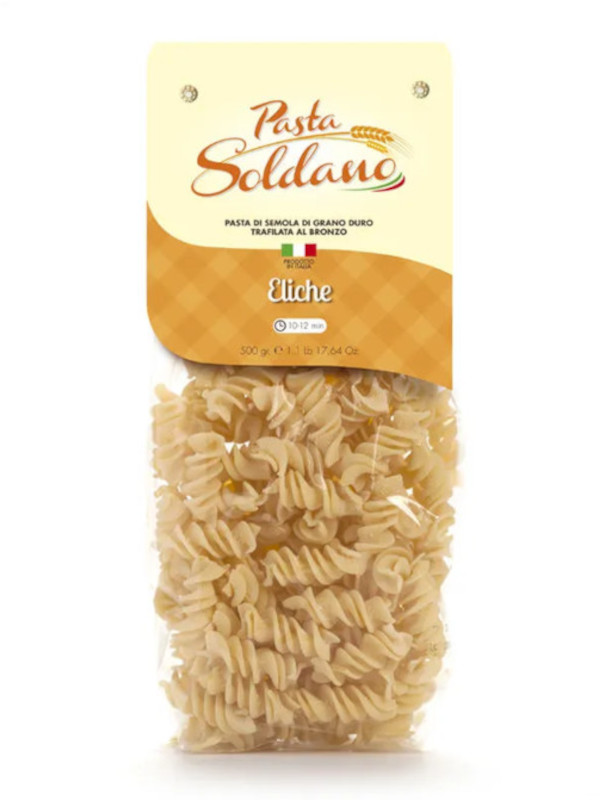 Pasta Soldano Eliche - 500g
Eliche
The name Eliche is easily understood that it derives from their shape consisting of wings that twist on themselves in a harmonious spiral, which captures any type of condiment. They are a pasta that lends itself to any type of dish, from the most classic or elaborate ones, to simple and creative ones. Also excellent during the hottest periods, to prepare delicious pasta salads.
Handcrafted product dried at low temperatures. Bronze drawing.
Available in 500g packs.
INGREDIENTS
Durum wheat semolina | Waterfall
Contains Gluten - May contain Soy and Mustard
PASTA PRODUCED WITH 100% ITALIAN WHEAT.
Origin of wheat: Italy | Country of milling: Italy
———————————————–
Nutritional values
Energy value: 1511 KJ - 356 kcal (values per 100 g).
Fat: 1.5 g
of which saturated fats: 0.3 g
Carbohydrates: 71.7g
of which sugars: 3g
Protein: 11.8g
Salt: 0.002g
Tips for perfect cooking
Use 6 liters of water for 500g.
Add salt and when the water boils, add the pasta.
Stir occasionally.
When cooked, drain and season to taste.
Cooking time: 10-12 min.
Imported From Italy